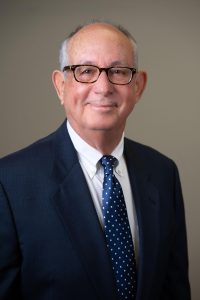 Charles Willette, Jr. was born in Conroe, Texas and graduated from Texas A&I University (now Texas A&M Kingsville) in 1970 with a degree in Government.  He was a sixth-grade teacher at Valley Hi Elementary in San Antonio for one year before enrolling in St. Mary's University Law School, from which he graduated in May 1974.
While attending law school, Mr. Willette was a law clerk for the firm of Rice & Sealy and later became a part-time criminal investigator in the Bexar County District Attorney's Office. After receiving his license to practice, he was an Assistant District Attorney for Bexar County.
In 1975, he moved to the Rio Grande Valley and was an associate at the Law Firm of Abel Toscano, serving as a criminal defense attorney.
In 1976, Mr. Willette became the first full-time City Atorney of Brownsville and served in that capacity for three years, during which time he became well versed in representing and defending governmental entities.  In 1979, he entered private practice as a civil litigator --representing numerous cities, counties, school districts, water districts and other forms of governmental entities. He was appointed Special Prosecutor by the District Judges of Cameron County in 1979 to investigate an allegation of perjury by a county employee.
Mr. Willette continued his practice in government law – working with both litigation and general counsel matters -- with offices in Brownsville and McAllen until his retirement in 2011. He was named a "Super Lawyer" by Texas Monthly In 2006, retaining that honor for several more years until his retirement.
Despite his retirement, Mr. Willette worked as a full-time mediator for several years and in 2015 became a Litigation Consultant to the City of McAllen.
He and his wife moved to New Braunfels in 2017. He joined the Law Offices of Ryan Henry as "of counsel" in 2019.
Bar Admissions
Licensed in Texas-1974
U.S. District Court Southern District of Texas- 1985
United States Supreme Court-1980
Previously Licensed in U.S. Court of Appeals 5th Circuit and the U.S. District Court Western District of Texas