Joshua Galicia was born and raised in Dallas, Texas. He graduated from the University of Texas-Austin in 2010 with degrees in English and Spanish, then went to Texas A&M University School of Law, graduating in 2013.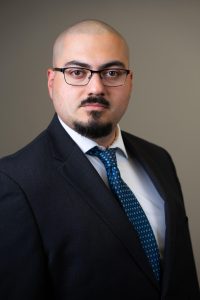 After law school, Joshua served in the public sector as a criminal prosecutor for more than five years — practicing in Brazos County (Bryan/College Station) and Williamson County (Georgetown/Round Rock), where he prosecuted all levels of misdemeanor offenses. During that time, he became a subject matter expert in Animal Cruelty cases as well as Mental Health Law, with a focus on alternative resolutions for defendants with mental health issues. He has also taken many cases to trial, both bench and jury.
While living and practicing all over Central and North Texas, Joshua has had opportunities to indulge in one of his favorite hobbies: visiting breweries, tasting new styles of beer and collecting pint glasses. In his spare time, Joshua enjoys longboarding, brewing beer, and spending time with his family.